你被禁止过做什么吗?为什么被禁止(一)
What are you banned from? Why?
译文简介
网友:这是一个关于我的好朋友的故事,他被所有的欧盟国家禁止入境,让我向你们介绍一下他吧。他当了我四年的老板,也将会是我一辈子的朋友。他是英国人,在硅谷一家英国主要天然气供应商的子公司工作了很多年......
正文翻译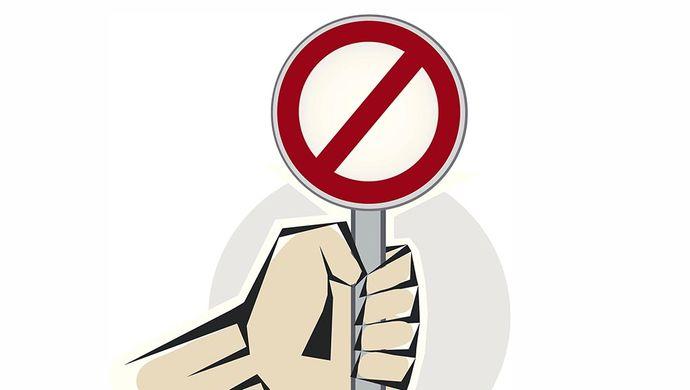 What are you banned from? Why?
你被禁止过做什么吗?为什么被禁止
评论翻译
Mehran Moalem, Engineering Professor, Expert in Air, Atmosphere, Global Warming, and Pollution
Mehran Moalem,工程学教授,空气、大气、全球变暖和污染方面的专家。
You can imagine I was laughing my head off listening to the story. Here is a very conservative nice man, a rich Brit, working for a conservative high-tech company, educated and pretty sophisticated and then when it comes to football he was the leader of the hooligans in Italy. I asked him then how does it work, I mean there are no border enforcement within Schengen states. How can they ban a British from other EU countries. Apparently he can travel and nobody checks when he boards a plane but if they ever catch him in Italy he can be jailed for violating the ban. So yes that is a serious ban. One final joke is that Germans are actually much more strict than the rest of EU when it comes to law and order. Italy is supposed to be the kinder and more forgiving part of the EU. It really takes a lot to be banned from Italy. Well I think that was quite an achievement for him. I gave him a high five.
你可以想象一下我听这个故事时笑得前仰后合的情景。这是一个非常保守的好人,一个富有的英国人,为一家保守的高科技公司工作,受过教育且相当有阅历,但谈到足球时,他却是意大利足球流氓球迷们的领袖。我问他这禁令是怎么执行的,我的意思是申根国家没有边境执法,那么他们要怎么做到禁止英国人进入其他欧盟国家?显然,他可以去旅行,登机时也没有人会检查,但如果他们在意大利境内抓住他,他可能会因违反禁令而入狱。所以这其实是一个很严重的禁令。
最后一个笑话:实际上在法律和秩序方面,德国人比欧盟其他国家要严格得多。意大利应该算是欧盟中相对友善、宽容的国家了。要被意大利下禁令也确实没那么容易。我认为这对他来说是相当大的成就了。于是我跟他击了个掌。
Faisal Rasool
I am banned from taking Photos on Public places in Karachi, Pakistan
Ok now I have your attention so here is what happened
I think it was 2015 when the terrorism was begging to slow down in Pakistan and things were begging to improve. One fine morning I decided to take my camera, tripod and other things and take long exposure photos of old Karachi. So I went to old Karachi area and started roaming around it was still early morning for Karachi and started taking photos of different old buildings and things. It was around 10:30 when I reached near Karachi stock exchange and decided to take pictures of the stock exchange and associated buildings.
I set up my equipment and started shooting building from different angles. It must have went on for 15–20 minutes when a rangers officer (it's a para military force deployed in Karachi to combat terrorism) approached me asked to leave. Being a smart mouth a told him it's my constitutional right and there is no way I am leaving without the photos I intend to take. The officer did not take it lightly and responded I am the law in this area or something like that. In short we went into an argument and he booked me into his car and took me to thier base.
我被禁止在巴基斯坦卡拉奇的公共场所拍照。
好的,现在让我来告诉你们发生了什么吧。
我记得那是在2015年,巴基斯坦的恐怖主义势力正在减弱,形势逐渐好转。一个晴朗的早晨,我带上了相机、三脚架和其他设备,准备用长时间曝光的方法去拍摄一些老卡拉奇的照片。所以我去了老卡拉奇地区,漫步在卡拉奇的清晨,开始拍摄不同的老建筑和物件。十点半左右,我来到了卡拉奇证券交易所附近,想拍摄证券交易所和周边建筑的照片。
我设置好设备,开始从不同的角度拍摄建筑。一名游骑兵军官(部署在卡拉奇打击恐怖主义的准军事部队)向我走近,要求我离开,大概僵持了15-20分钟。他很聪明,我告诉他这是宪法赋予我的权利,没有拍到我想要的照片我是不可能离开的。然而这名军官并没有放松态度,他回答说:"在这片地区我就是法律。"简而言之,我们吵了起来,他把我叫上了他的车,把我带去了他们的基地。
Anonymous
I was in the Australian army in Vietnam and was banned, that is lost my security clearance and my job, because I wanted to marry a Vietnamese young woman. Mind you, she worked for the USAF in Saigon and her father worked for an American road building company, but that didn't count. She was Vietnamese, so I was sacked. Then I received posting orders to send me back to Australia so that I couldn't get married. That was what I really obxted to. So I sat down and wrote a letter to the Minister of the Army, asking him to intervene and why. I recounted simply, in chronological order what had happened, not accusing anyone of anything, but at the same time making it absolutely clear that the problem was based solely on the army not wanting me to marry a Vietnamese woman.
I showed the letter to my commanding officer, who squirmed and asked me to hold off posting the letter. I held off and found instead that I was posted to Saigon, where the CO of HQ company said to me, "I hear you have had a bit of trouble. If anyone gives you trouble here, just come and see me. You will probably need some time off to arrange your marriage, just let me know when and take it."
My wife and I married and flew out of Saigon on 28 February 1972 on the last Qantas charter flight for the Australian army. General Dunstan, the Australian Force Commander in Vietnam came to the airport to see the flight off. He started at the rear end of the long queue of soldiers waiting to board the plane and wished each soldier well, until he reached the head of the queue: six soldiers and six Vietnamese wives. He didn't wish us well, didn't even look at us, but rather turned round and left. The prick later became Governor of South Australia.
My wife and I settled in South Australia. I took my discharge from the army three years later, went to university, graduated and have never looked back.
我曾在越南的澳大利亚军队中服役,后来被禁止了,因为我想和一个年轻的越南女子结婚,于是我失去了我的安全认证以及我的工作。
请注意,她在西贡服务于美国空军,她父亲在一家美国筑路公司工作,但那不算什么。她是越南人,所以我被解雇了。然后我收到邮件命令,要把我送回澳大利亚,这样我就不能结婚了。这才是我真正反对的。于是我坐下来给陆军部长写了一封信,请他出面干预,并说明了原因。我按时间顺序简单地叙述了发生的一切,没有指责任何人,但非常清楚地表明了,这个问题完全是因为军队不想让我和一个越南女人结婚。
我把信给指挥官看,他局促不安地要我推迟寄信。我推迟了,结果发现我被派往了西贡,在那里总部的指挥官对我说:"我听说你遇到了一点麻烦。如果在这儿有人找你麻烦,就来找我。你可能需要一段时间安排你的婚姻,告诉我什么时候去就行了。"
我和我的妻子结婚了,在1972年2月28日乘坐澳航最后一架澳大利亚陆军包机飞离了西贡。澳大利亚驻越南部队指挥官邓斯坦将军来到机场送行。他从等候登机的士兵队伍的尾部开始,祝福每一名士兵,直到排到队伍的最前面:6名士兵和6名越南妻子。他没有向我们问好,甚至都没有看我们一眼,就转身离开了。这个混蛋后来成了南澳大利亚州的州长。
我和妻子定居在南澳大利亚,三年后我退伍了,上了大学,顺利毕业了,我再也没有回头看过。
Elissa Baldwin
I have been banned from giving blood at the Red Cross.
Twice.
From the time I was 17, I started giving blood to the Red Cross. It was important to me and something I enjoyed doing on a regular basis.
Then I studied abroad in London in 2000 for 3 months.
When I came back to the States, I wanted to go back to donating blood. One of the questions on the survey you take before donating is:
"Have you lived outside of the United States?"
Well, yes I have. I just returned from London.
Nurse: "Were you there for at least 12 weeks?"
Me: Technically, I was there for 11.5 weeks.
Nurse: "Well, because you lived in England, you could potentially have Mad Cow Disease and we don't have anything to test for that. Our cutoff is 12 weeks."
Me: But I wasn't there for a full 12 weeks.
Nurse: "Close enough. I would like to sleep at night. You are banned indefinitely from donating blood."
Wait, what? I can't donate blood because I lived in Europe SEVERAL YEARS after the Mad Cow epidemic?
I was pissed. So I found another organization that had limits on what years you were living in England (up through like 1996).
And here we are again. Now I am banned for life from donating to ANY organization.
Places don't really want your blood when you've had blood cancer.
Fair enough.
我被禁止在红十字会献血。
两次。
从17岁起,我就开始向红十字会献血。从我17岁起,我就开始向红十字会献血。 这对我很重要,也是我喜欢定期做的事情。
2000年我在伦敦留学了3个月。
回到美国后,我想继续回去献血。在你献血前填写的调查中有一个问题是:
"你在美国以外的地方生活过吗?"
嗯,有,我刚从伦敦回来。
护士:"你在那里待了12周以上吗?"
我:"严格来说,我在那里待了11.5周。"
护士:"嗯,因为你在英国住过,可能会得疯牛病,而我们没有任何东西可以检测到这个。我们的截止期限是12周。"
我:"但我整整12周都没去那儿。"
护士:"已经很接近了。我想睡个安稳觉。所以你被无限期禁止献血了。"
等等,什么?我不能献血是因为疯牛病流行几年后我在欧洲住过?
我很生气。所以我找到了另一个对人在英国的生活年限有限制的组织(直到1996年)。
我们又来到了这里。现在我被终身禁止向任何组织捐献东西。
当你得了血癌的时候,那些地方就不需要你的血了。
很有道理。
EDIT: Apparently, I need to say this - I do understand how important it is to have untainted blood. I had blood cancer and received a ton of it. Calm down.
The Red Cross was the only organization at the time that didn't have a time limit on the years living in England. Now they have put it up to 1996 for at least 3 months like everyone else has. I was there in 2000 for less than 3 months and was pulled.
Let's also remember that this was 17 years ago.
I won't be responding to anymore comments asking me if I understand the importance of untainted blood.
编辑:当然,我要说,我知道拥有无污染的血液是多么重要。我患有血液癌,也接受了大量捐献的血液。冷静下来。
红十字会是当时唯一一个没有对在英国居住年限有限制的组织。现在他们和其他人一样,把年限推迟到了1996年,至少3个月。2000年,我在那里待了不到3个月就搬走了。
我们也要记住这是17年前的事了。
我不会再回应那些问我是否理解纯净血液的重要性的评论了。
Javier Bustamante
My case is not as bad as others that I saw in the other answers to this question but it is sort of funny in a way. I was banned from a now-defunct collaborative subtitles creation site.
The purpose of this site was to create subtitles in Spanish of those popular series that were airing in the US, without having to wait for the broadcasting of the series in 3 or 4 months in Spanish language (plus I hate dubbed shows).
The dynamics were very simple.
Some people would get the original subtitles in English from the Closed Caption of the series and share it with the community as an SRT format with the proper timings.
The site would offer a system where some translators would translate lines of dialog by blocks. The system kept track of who was translation each line of dialog at the time.
A secondary group would cleanup the subtitles by checking for consistency with genre, situation, grammatical errors, ortographic errors, etc…
Once the file was cleaned, it was released for anyone to download and enjoy the video file, (downloaded by other not very legal ways) pairing both files.
There used to be a version in Latinamerican Spanish an Castillian from Spain. Typically the Castillian version was a lot faster to release than the Latinamerican ones, probably because there were more translators in Spain than any other place.
By that time, my wife and I started watching this series and were eagerly waiting for the latest episode to be released and since she does not speak English, we would have to wait until those Spanish subtitles were released as well. We typically would prefer the latinamerican version but we did not mind getting the castillian version instead to gain on a couple of nights to watch the show.
我的情况不像这个问题的其他答案那样糟糕,并且在某种程度上是很有趣的。我被一个现已关闭的字幕合作网站封杀了。
这个网站的目的是为那些在美国播出的热门剧集制作西班牙语字幕,就不必等待3到4个月后西班牙语版的剧集播出了(再加上我讨厌配音的节目)。
运作非常简单。
有些人会从该系列的封闭字幕中获得英文原版字幕,并在适当的时间将其以SRT格式分享到社区。
该网站将提供一个系统,让一些译者按区域翻译对话。该系统记录了当时翻译每一行对话的人。
第二组将通过检查与编辑、情境、语法错误、文字错误等的一致性来处理字幕。
文件一旦处理完善,任何人都可以下载和观看视频文件(通过其他不太合法的方式下载),以及配对的两个文件。
过去曾有拉丁美洲的西班牙语版本和西班牙的卡斯蒂利亚文版本。 通常,卡斯蒂利亚版本的发布要比拉丁美洲版本快得多,这可能是因为西班牙的翻译人员比其他任何地方都多。
那时候,我和我的妻子开始观看这一系列的剧,并热切地等待着最新一集的发布,由于她不会说英语,我们不得不等到那些西班牙语字幕发布之后再看。 我们通常更喜欢拉丁美洲版本,但我们也不介意用卡斯蒂利亚版本替代几个晚间节目。
As things went, my wife suggested for me to join the effort and register in the site to participate in the translation so we could help decrease the time for the file completion and release. I agreed. The very first time I participated, about half of my contribution was rejected. The reason: I was not using the regular modisms from Spain such as Vale for OK. I was using De acuerdo, which is more common in Latinamerica. I got a warning that I should stick to the rules and participate in accordance with their accepted modisms. I then tried to collaborate with the Latinamerican team but it was actually very slow. They only had like 3 people helping out and not all of them were very constant.
Giving it a second attempt, I joined the "Castillian" team again and I tried as much as I could to use the Spain modisms, but I was a very lousy faux-Spaniard I guess and the next thing I know I was banned from the site due to repeated unruly behavior.
The site did not pay or claimed any money. It just survived from the advertisement in their site for visitors that went there to download their subtitles. None of the translators or cleaners and what not, received any money either, as far as I know, but it was sort of funny that I was kicked out of a site because I was not able to write proper Spanish. I have to clarify that Spanish is my native language. I have a perfect ortography, and I have even written poems and three small books that I do not plan to publish in the near future at least. I wrote them for my kids, mainly.
And that's it. That is the story of how I got banned from this site for my unruly behavior.
随着事情的发展,我妻子建议我去加入这个工作,并在网站上注册以参与翻译,这样我们就可以帮助缩短文件完成和发布的时间。 我同意了。 我第一次参与翻译是,大约一半的翻译都被否决了。 原因是我没有使用西班牙的常规方式,例如西班牙语中Vale是正确的,而我使用的是De acuerdo,更常见于拉丁美洲。 我得到了警告,我应该遵守规则并按照他们所接受的方式参加工作。 然后,我尝试与拉丁美洲团队合作,实际上非常慢。 他们只有3个人能提供帮助,而且并非所有人都非常稳定。
第二次尝试后,我再次加入了"卡斯蒂利亚"团队,我尽我所能尝试使用西班牙语的规则,但我猜我是一个非常糟糕的仿西班牙人,然后我知道我被网站禁止了,因为我的行为再次违背了规则。
看该网站内容无需支付费用或要求付出任何金钱(等价物)。它仅靠着他们网站上的广告存活,这些广告还是为了让访问者去下载他们的字幕视频。据我所知,没有一个翻译得到了任何报酬,但有趣的是,我被踢出了这个网站,原因是我不能使用正确的西班牙语。我必须澄清一下,西班牙语是我的母语。我的文体学很完美,我甚至写过诗和三本短文,至少近期我不打算出版。我主要是为我的孩子们写的。
就是这样。这就是我因为不守规矩的行为而被一个网站封杀的故事。
Sam Priestley, Experimental Entrepreneur - sampriestley.com
实验性企业家- sampriestley.com
I am banned from almost every bookie in the UK.
I used to make money from arbitrage betting. You can read about it properly on that Wikipedia lix, but in short it is when you take advantage of differing odds at different bookies so that you lock in a profit by betting on all the outcomes of an event.
I did it for years, but slowly got banned from more and more bookies. As soon as they would realise that I was only using them solely to place arbitrage bets the hammer would come down. Arbitrage bets only appear when the bookie has mis-priced their lines, which means that in the long term they lose money to arbitrage bettors.
It started with their online services. Some places were quite gentlemanly about it, slowly reducing the amount I could bet until the max bet was zero. I could still log in, withdraw and deposit, but I couldn't place any bets.
Others were not so nice. Immediately locking the account and requiring me to get on the phone and jump through hoops to get my money out.
A common way they used to use to try and delay paying out was to keep asking for new forms of ID to prove that I am over 18.
I have been asked for all sorts of nonsense, including photos of me holding my identification next to my face taken from multiple different angles. I was once even told that I needed to get a notary to prove my identity. As the cost of going to a notary was more than the balance I had at the bookie I just left it.
英国几乎所有赌博公司都禁止我下注。
我以前靠套利交易赚钱。你可以在维基百科上找到相关链接,简而言之,它是指你利用不同赌博公司的不同赔率,通过对某一事件的所有结果下注来锁定利润。
我这样做了好几年,但慢慢地被越来越多的公司所禁止了。一旦他们意识到我只是用他们来做套利交易,锤子就会掉下来。只有当赌博公司错误定价他们的赌注时,套利赌博才会出现,这意味着从长期来看,他们会给被套利的赌博公司带来损失。
这始于他们的在线服务。有些地方是相当绅士的,慢慢减少我可以打赌的数量,直到最大赌注为零。我仍然可以登录,取款和存款,但我不能下任何赌注。
其他公司就没那么好了。他们会立即锁定帐户,并要求我打电话,并通过重重困难取出我的钱。
他们过去试图拖延支付,最常见的一种方式就是不断要求我提供新的身份证明,以证明我已年满18岁。
还有人问我各种各样的废话,包括从多个不同角度拍摄我拿着证件放在脸旁边的照片。曾经有人告诉我,我需要一个公证人来证明我的身份。但因为去找一个公证人的费用超过了我在赌徒那里的余额,所以我舍弃了这一想法。
Eventually I had been banned from all the online bookies. So I turned to the racetrack and high street betting shops. In the UK there are over 9,000 betting shops, that anyone can walk into and place a bet. I thought that there was no way I could be banned from all of them!
It started well and for about a month everything was going smoothly. But then one day when I went back to pick up some winnings I was told I was banned from all Corals in the UK.
Ok, I thought. That doesn't matter.
They don't know my name, they can't possibly know it's me if I go into a different Coral. So I went round the corner and entered another bookie. Only to have the manager come storming out shouting at me "you're banned!" It turns out my descxtion had been sent to every betting shop in the nearby area.
So I started travelling further. I would store different jackets, t-shirts and hats in my car so I could quickly change between each bookie.
But it wasn't long before the bookies started wising up. The different companies would communicate and soon my picture was in most bookies. I was still getting away with it, but I had been warned on a few occasions that if I was caught they'd refuse to pay me my winnings. I eventually decided it wasn't worth it, hung up my disguises and moved on.
最终,我被禁止参加所有的线上赌博。所以我转向了赛马场和高街博彩店。在英国有超过9000家投注店,任何人都可以进去投注。我认为我不可能被所有人禁止!
一开始很顺利,大约一个月以来一切都很顺利。直到有一天,我去领一些奖金时,才知道我被英国所有的博彩店禁止了。
好吧,我想。这并不重要。
他们不知道我的名字,如果我去了别的博彩店,他们不可能知道是我。于是我转了个弯,进入了另一个赌注经纪人那里。结果经理冲我吼道:"你被禁止了!"我的特征描述被发送到了附近所有的博彩店。
所以我开始走得更远。我会在车里存放不同的夹克、t恤和帽子,这样我就可以在每个赌注经纪人之间快速变装。
但没过多久,经纪人们就开始明白了。不同的公司会互相交流,很快我的照片就出现在大多数博彩公司。我仍然逍遥法外,但我被警告过几次,如果我被抓住,他们会拒绝支付我的奖金。最终我觉得这些不值得我这样,就放下了伪装,继续生活。